Forex Live Market Analysis 2010

Most Reliable Sport Betting Prediction
Make Huge Affiliate Commission with RSS Content
0

Comments
Published by KL Ocs Kid on Tuesday, May 13, 2008 at 10:07 PM.

Striker thankful to fans and team-mates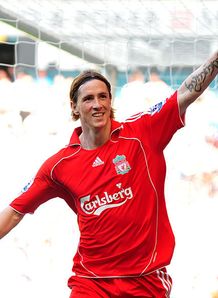 Liverpool striker Fernando Torres has thanked the club's fans for helping him become a record-breaker in his first season at Anfield.
Torres became the most prolific foreigner ever in a debut season by scoring his 24th Premier League goal of the season in the 2-0 win at Tottenham to break Ruud van Nistelrooy's previous record.
The Spanish international has been a revelation since his arrival from Atletico Madrid and Torres admits the support he has received from the Anfield faithful is one of the main reasons why he has been such a success.
"The supporters back the players, regardless of who is out on the pitch," said Torres.
"They enjoy watching their key players play, because Liverpool has great players, but Liverpool will always be a team.
"The fans get behind the side even when things are not working out, and they are always there until the death.
Difference
"That is the major difference with football back in Spain. If a team is not doing well, then it is because the players do not deserve to be wearing the club's colours.
"At Liverpool, if a player is wearing their shirt, it is because he deserves it. The fans ask for effort and dedication, and their support is something special, something that stays with you.
"Luckily, everything has worked out well from day one, and my team-mates have helped out, and I owe them all an awful lot."
Labels: Torres
Forex Live Market Analysis 2010

Most Reliable Sport Betting Prediction
Make Huge Affiliate Commission with RSS Content
0

Comments
Published by KL Ocs Kid on at 10:03 PM.

May 12 2008 by James Pearce, Liverpool Echo
Gareth Barry (100)
RAFA BENITEZ insists Liverpool have done everything by the book in their bid to sign Aston Villa skipper Gareth Barry.
Villa manager Martin O'Neill has accused the Reds boss of showing a lack of respect towards the Midlands club.
O'Neill dismissed the £10million offer as derisory and slammed Benitez for insinuating there had been ongoing discussions to offload the 27-year-old England midfielder.
"I think the right approach when you want to sign a player is to talk to the manager," Benitez said.
"I was talking to Martin O'Neill, I said we would like to sign Gareth Barry and asked what the situation was.
"He just said he needed to talk to the owner and I said okay. He will not have any problems with his supporters because he never said to me he wanted to sell Barry.
"We were also talking about Scott Carson because they have the option to sign him.
"We were just talking about football so why he was so angry I do not know.
"I've been very clear. The player had said before he wanted to play Champions League football. We knew that and so tried to sign a good player. It's that simple.
"If your captain wants to leave, it's a problem but that's football."
O'Neill also pointed an accusing finger over how news of Liverpool's offer for the England midfielder leaked out but Benitez says his conscience is clear.
"We made an offer but I think we were straight," he added.
"When you make an official offer you do so by fax. Some people see the fax and you cannot control everything.
"The Birmingham press found out about the offer and it was not our fault. They were very clever and used that information.
"I was talking with Martin O'Neill 20 days before that and nobody knew. We were doing things properly.
"We are waiting now to see what happens next."
Barry scored in Villa's 2-2 draw at West Ham yesterday and O'Neill vowed to step up his efforts to convince his skipper to stay.
O'Neill said: "We want to do our utmost to keep Gareth because he's so important to us and is back to his brilliant best.
"It's interesting and ironic that apparently there was an offer from an Italian club for Steven Gerrard, yet Liverpool were quick to remind everyone that he is under contract.
"Gareth has two years left on his contract and we want him to stay. The chairman will talk to him to show how much we value him.
"I can't understand why Gareth would want to leave. He's only 27 and has been brilliant for us.
"He has been selected for England and has played regularly for them because of his exploits with Villa."
* Meanwhile, there was no room for Peter Crouch, Jermaine Pennant or John Arne Riise in the Reds squad for yesterday's 2-0 win at Spurs. The trio are expected to leave Anfield this summer with Benitez having slapped a £15million price tag on Crouch.
Labels: barry
Forex Live Market Analysis 2010

Most Reliable Sport Betting Prediction
Make Huge Affiliate Commission with RSS Content
0

Comments
Published by KL Ocs Kid on at 10:01 PM.

Reports: Chelsea bid for Torres
Monday, 12th May 2008 (21:16)
by Anfield Online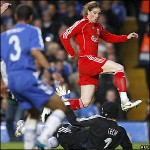 Reports from Spain suggest that Chelsea have made an initial bid of around £39 million (50 million euros) for Liverpool striker Fernando Torres.
The talismanic Liverpool striker has scored 33 goals in his debut season for the reds, 24 coming in the Premiership.
The reports from Radio Marca in Spain (who yesterday said that Alonso had signed a pre-contract agreement with Real Madrid) suggest that Roman Abramovich has identified the Spaniard as his number one target.
While Liverpool fans, and no doubt Benitez, would categorically laugh off any bid from one of the clubs arch rivals, with the two clowns currently in charge of Liverpool - you never know.
Labels: Torres