Forex Live Market Analysis 2010

Most Reliable Sport Betting Prediction
Make Huge Affiliate Commission with RSS Content
0

Comments
Published by KL Ocs Kid on Saturday, August 14, 2010 at 6:08 AM.

Joe Cole's arrival at Liverpool on a Bosman is, and will remain, the British transfer coup of the summer. Already it has given the supporters a terrific psychological boost and it's also put a couple of our rivals on the back foot.
This article was written by yorkykopite from The Red And White Kop Forums (RAWK) – It does not necessarily represent our views and has been edited to suit posting.
At a time when the football press was predicting a stampede of star players out of Anfield, and when the semi-criminal ownership was haemorrhaging £100,000-a-day to the banks, there was enormous symbolic value in the fact that we captured Cole, not Arsenal or Tottenham or Man Utd. Even though we are seriously ill and even though we could not hope to match his initial wage demand, Joe Cole chose us.
I don't know anyone in Red who wasn't lifted by that. I live in London and so inevitably have friends who support Arsenal and Tottenham. You could still see the shock on their faces a day or so afterwards. "I thought you were dead", said one mate who'd become used to hearing my pirate stories about Gillett and Hicks. "Half-dead", I replied. But even the semi-corpse of Liverpool Football Club was more seductive to Joe than the sprightly North London duo. Yes, he chose us and it was a fine thing.
But is he what we need? What can Joe Cole bring to Liverpool? Is he the real thing or is he just an ornament? I think he's the real thing. In fact Cole is the player I expected Rafa to sign when he first arrived, except his name was Pablo Aimar then.
'Cockney Tw*t'
Looking back at previous posts on RAWK, when Cole was still a Russian slave, I see that I once called him a 'tw*t' and hoped some Liverpool player would break his legs – a sure sign that I regarded him extremely highly. Indeed in October 2008 I wistfully imagined that we had a "Cole-type" player on the right wing to bring some defence-unlocking trickery to that side of the field. And then over the space of 12 months I posted these two comments. Again, they contain a wee dose of envy-driven malice, not to mention some indefensible regional stereotyping, but it's fair to say that my high regard for the man's footballing skills comes through.
This was in 2008: "It's like that little shit Joe Cole. Can't stand him. But I can't stand him playing against us either. The temptation for his manager must always be to bench him in the big games because he can't defend for the life in him. When Chelsea come to Anfield I always pray that's where Joe Cole will be – nailed to the bench. But, really, if you want to win titles you've got to be prepared to take risks and field players like him"
And this in 2009: "Obviously he's a cockney tw*t with a grade-A certificate in diving from his local swimming baths. But he's a wonderful player who worries me when he lines up against us. He has immaculate ball control, is tenacious and has tremendous pace when he's running with the ball – and because he is so balanced is surprisingly difficult to knock off it. He takes opponents out of the game constantly and his head never seems to drop – a real 'picture-changer' of a player who always looks to disorganize the opponents' defence and often suceeds. He ought to score more goals, but his greatest asset is creating space for teammates."
So yeah, 'cockney tw*t' or not, I liked him. A lot. Well, now he's ours and I'm delighted.
I'm delighted because I take huge enjoyment from having audacious players in the Liverpool shirt. It's our birthright. Over the years each generation of Kopites has witnessed that lethal combination of imagination, guts and technique: imagination to conceive something, guts to try it, and technique to carry it out. It's a rare thing to see the three things combined in one player. They were in St John. They were in Keegan and Dalglish. They were in Beardsley and Fowler. I think they are in Cole. But I'm also delighted because Joe Cole is a battle-hardened performer who has won three league titles and two FA-Cup winners' medals. He's not just a fancy dan, as many of his detractors tend to suggest. He's a player who is habituated to winning and one who knows that trickery can hurt the opposition and coax teammates into life as well as excite the crowd.
The best is yet to come
Cole himself believes his best years are still to come. He's 28 now, and has suffered serious injury in the recent past, so perhaps this is bullshit. And, certainly, it's true that all players at the peak of their powers are inclined to say "my best is yet to come". The demoralising alternative, after all, is to gaze at the long downslope which leads to nowhere but the pit. But I think Cole might be right, and there are two reasons why.
First, because despite his medals, Cole still has something to prove. There is unquestionably a certain feeling in English and European football that the boy-genius has not quite fulfilled his early promise. I can remember reading about the reaction of Italian football journalists after one of Cole's first international games, against Italy. He gave a command performance full of damaging flicks, cheeky turns and incisive off-the-ball running and it had the Italian press corps cooing and wondering why Italy could no longer produce such virtuoso talent. Yet that tyro of 2002 has still never managed to become a permanent fixture in the national team, nor an indisputable star in the Champions League. That's a warning for Liverpool fans. But it's also a source of hope. Cole must know that there's a lingering question-mark over his career, and the move to Liverpool could, once and for all, supply the definitive answer. He can write his name in gold here in a way he never quite managed at Stamford Bridge.
The second reason why the best is possibly still to come is to do with the specific role he plays inside the team. Chelsea never completely liberated or harnessed Cole's prodigious talent because they never knew quite where to play him. Central midfield, on the left wing, on the right, in the hole – they tried him everywhere and often you got the feeling he was moved to a certain position because Robben happened to be injured that week, or Drogba was sulking, or Kalou was in Africa. Mourinho was the biggest culprit because he was working with raw material he could have moulded any way he liked. "There are two faces to Joe Cole", he once said. "One is beautiful, and the other I do not like". The bit he didn't like was the one, he claimed, who didn't defend properly and so he moved Cole from 'the hole' where defence is usually a matter of astute positioning to the flank where it's often about harum-scarum retreat to prevent a marauding full back getting a 2 on 1 on your own man. You can't shirk obligations there so easily. Everybody can see you resting on your spade in ways they can't when you're in the middle of the pitch playing the classic 'no. 10'.
I don't know. Perhaps playing Cole on the wing, and loading him with defensive duties, made him a more rounded player. After all he was Chelsea's player of the year in 2008. But somehow you can't imagine Pablo Aimar being plucked from the hole and told to do the same thing. Aimar remained a specialist operating behind the front line and squeezing gorgeous living space out of the most congested and most contested few square yards on the pitch. That's where he did his damage. And that's where a lot of us would like to see Cole.
The move to Liverpool is therefore a chance to redefine Cole's position and to establish it inside a team that gives him more attacking responsibility. I hope he plays in the hole behind Torres, much as Beardsley did behind Aldridge. The match against the Macedonians was a bit of a joke match of course (They've never been the same since Alexander the Great retired). But even in that match you could appreciate the awesome nature of the Cole turn on the ball and the way that acceleration over 3 or 4 yards and the desire to face the goal with the ball at your feet can throw defenders backwards, create space in the last third and allow blind-side runs for colleagues. Turning Essien and Palacios will be harder than turning the Rabotnicki lads, but it will happen and Liverpool will be better for it.
There's also this
Joe has also come to Anfield to play for the first time for many years in front of a proper football crowd instead of herds of stockbrokers and management consultants on mobile phones. We all like to joke about the Chelsea plazzy-flag sickness and their increasingly futile attempts to create the big-time atmosphere they associate with us. And the whole football world is embarrassed by the fact that Stamford Bridge still trails the Chelsea Flower Show for genuine atmosphere, let alone Anfield. Well now he is in a football city and, judging from his early comments, he knows it and is inspired by it. It's a brilliant stage for him to fill in the missing dots in his career.
He's a risk because of the injuries. He needs to get more goals than he's ever got in his career (1 in every 6.5 games is not enough). He needs to be surrounded by pace, on all sides (including the right wing). He needs to develop the psychology of the 'go-to' man and see himself as the fella who fixes problems in attack. But he ought to get lots of games and get them in his favourite position. When this happens the Kop will feed off him and he will feed off the Kop and it will create that special player-supporter symbiosis that can raise the game of even established talent. Pretty soon, I hope, everyone (not just us) will forget he ever played for Chelsea.
Welcome to Anfield Joe.
Labels: Joe Cole
Forex Live Market Analysis 2010

Most Reliable Sport Betting Prediction
Make Huge Affiliate Commission with RSS Content
0

Comments
Published by KL Ocs Kid on at 6:06 AM.

The 30-year-old Denmark international signed a three-year contract on Thursday after a £4.5m fee, with an additional £1m payable on certain conditions, was agreed with Juventus.
The midfielder has trained with his new team-mates but has little time to settle in before the campaign kicks-off at Anfield and throwing him in against Arsene Wenger's side may be too much of a gamble.
However, Hodgson is well aware of Poulsen's qualities, having signed him for FC Copenhagen 10 years ago, and the player says he is ready if called upon.
"I started a little bit later because of the World Cup but I've done pre-season with Juventus," he said.
"I didn't play the last matches in the Europa League because of the move to this club.
"I am feeling fit but of course it's a decision for the manager and the staff."
Of his previous working relationship with Hodgson, Poulsen added: "I had two good years with him so I hope to carry that on, and hopefully he'll be satisfied with my qualities.
"He's a manager who's been all over the world and has a lot of experience, so of course I have a lot of respect for him.
"Roy didn't have to say that much because Liverpool is known all around the world, and for people in Denmark, Liverpool are the biggest club in England.
"With this move here I have a lot to prove. If you come to a club like Liverpool, you have to deliver.
"I will hopefully show I can be a good player for Liverpool."
Labels: Poulsen
Forex Live Market Analysis 2010

Most Reliable Sport Betting Prediction
Make Huge Affiliate Commission with RSS Content
0

Comments
Published by KL Ocs Kid on at 6:05 AM.

Tomorrow will bring a certain ambivalence to Anfield on an afternoon when there ought only to be unmitigated excitement at the start of a new campaign. The ownership issues linger yet supporters who yearn for the club to be bought must also wish the best for the manager Roy Hodgson. However, the visitors could also be uneasy since Arsène Wenger has not yet made the signings to give Arsenal a greater durability and key players such as Cesc Fábregas and Robin van Persie have yet to reach optimum fitness. Kevin McCarra
Venue Anfield, Sunday 4pm
Tickets £43-45 (0151 263 9199)
Last season Liverpool 1 Arsenal 2
Referee M Atkinson
This season's matches 30 Y123, R5, 4.27 cards per game
Odds Liverpool 6-4 Arsenal 2-1 Draw 23-10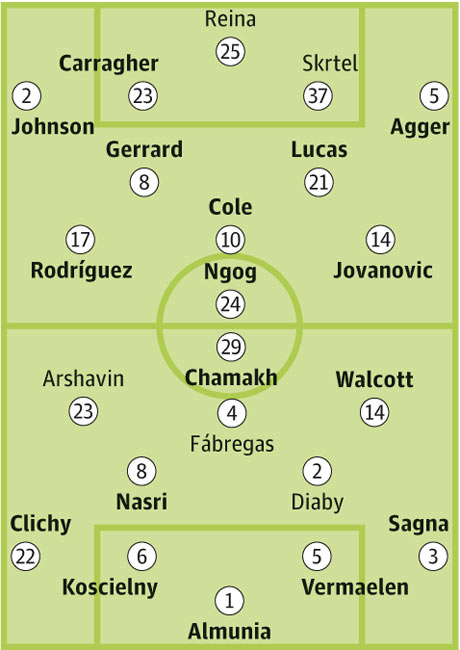 Liverpool
Subs from Cavalieri, Aquilani, Torres, Aurélio, Pacheco, Kyrgiakos, Kuyt, Babel, Mascherano, Wilson, Spearing, Poulsen, Shelvey, Kelly, Ayala, Amoo, El Zhar
Doubtful Reina (shoulder), Skrtel (ankle), Torres (groin)
Injured None
Suspended None
Form guide n/a
Disciplinary record (last season) Y56 R5
Leading scorer (last season) Torres 18
Arsenal
Subs from Fabianski, Gibbs, Eboué, Song, Frimpong, Wilshere, Rosicky, Lansbury, Emmanuel-Thomas, Van Persie, Denílson
Doubtful Denílson (abdominal), Diaby (calf), Song (calf), Fábregas, Van Persie (both match fitness)
Injured Bendtner (groin, Sep), Djourou (hamstring, Sep), Ramsey (broken leg, Nov)
Suspended None