Forex Live Market Analysis 2010

Most Reliable Sport Betting Prediction
Make Huge Affiliate Commission with RSS Content
0

Comments
Published by KL Ocs Kid on Sunday, August 9, 2009 at 11:42 AM.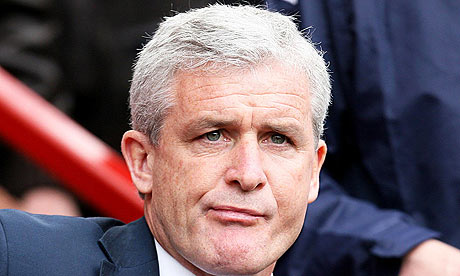 Given that the same team has won the Premier League for the past three seasons, and the top four has remained unchanged since Everton staked the briefest of claims in 2005, one can understand why cricket lovers, cynics and curmudgeons are reluctant to get excited about the return of the world's most over-hyped and over-funded football competition.
Strictly speaking it is Spain's turn to cope with the staggering salaries and spiralling superlatives this season – English football can take a back seat from providing most of the planet's excitement and watch how Cristiano Ronaldo, Kaká, Zlatan Ibrahimovic, Karim Benzema and the rest fare in La Liga – though any contest that can pit moneybags Manchester City against the new austerity at Manchester United, not to mention another new manager at Chelsea against the same old one at Arsenal, is bound to generate interest and incident as the games go by.
There is no doubt that the Premier League is skewed in favour of the handful of clubs with most resources and yearly admission to the Champions League cash buffet, yet to drastically paraphrase Woody Allen's thoughts on sex without love being such an empty feeling, as predictable leagues go, England's is surely one of the best. Indeed, for a league so often derided as predictable, the Premier League is big on weekly surprises even if the annual prizes tend to fall into the same hands.
There is a simple test, in any case, for anyone who really believes the Premier League has become boringly repetitive. Simply take out a piece of paper and write down your predicted top five, in order, plus the three teams you think will go down. Put it somewhere safe and don't look at it for at least six months. Congratulations to anyone who completed this exercise last year – I did, though congratulations are not really in order – and had Newcastle and Middlesbrough in the bottom three.
Perhaps the top three were rather easier to identify, though who could have known this time last year that Chelsea would end their season transformed under Guus Hiddink? In his departure speech after the FA Cup final Hiddink said his one big regret was never getting the chance to play Manchester United, either in the league or in Europe. He clearly thought he could have supervised a victory and, given the way the season ended, who is to say he was wrong? The possibility exists that, had the fixtures come out differently, or had Hiddink arrived a month or so earlier, United and Chelsea may not have finished the season seven points apart. Such considerations are impossible to take into account nine months in advance.
Anyone conducting the exercise now, right at this moment, will quickly realise another imponderable. While the games may start on Saturday the transfer window is open until the end of the month, and if this season is anything like last year, when City not only signed Robinho on the final day but attempted to derail Dimitar Berbatov's move to United, forecasts made in advance of the close of transfer business are based on incomplete information. All of the top four clubs plus City appear capable of making a major signing before 1 September, in fact the greater surprise will be if none of them do.
Precisely what City will manage this season after monopolising most of the transfer dealings and back-page stories over the summer is not only a great talking point, but a divider of opinion. They have unquestionably assembled a strong squad, but while some think that will propel them straight into fourth place or higher, others think egos will clash, money will split the dressing room and the Eastlands project will fall flat on its face. As a relatively inexperienced manager in what can only be described as an uncharted, if not unique situation, Mark Hughes is under pressure as never before. As Sir Alex Ferguson never tires of pointing out, success is rarely instant and money alone cannot buy it.
Ferguson in his turn was confounded in 2004 when José Mourinho pitched up at free-spending Chelsea and won the club's first league title for half a century in his first season in England, yet staggering though that achievement remains, there were a couple of things working in the Special One's favour. First, he had already announced himself as a manager and motivator of considerable ability by winning the Uefa Cup and then the Champions League with Porto. Instant respect at Stamford Bridge. Second, Chelsea were already a strong side with Champions League experience when he took over. Claudio Ranieri's old team, with a few new players and a couple of tactical tweaks, were ready to fly. City have nothing like that pedigree. No trophies, no record of success, just a desperate desire to enjoy some of the fun United have been having and suddenly an apparent means of achieving their goal.
United supporters are convinced City will just end up giving them another laugh, though Hughes has one thing in his favour in addition to the financial backing. City are not in Europe this season and can afford to go all out for a top-four place without the distractions experienced by Aston Villa and Everton last time. They are extremely unlikely to fancy playing in the Europa League the following season so must regard this as their best chance to crack the top four. Going out on a limb a bit – did I not mention that was part of the challenge? – I reckon they might be able to do that. Talk of the title is fanciful at this stage, but if City can offer players Champions League football next summer that will be tangible progress.
For that to happen someone from last season's top four will have to drop out, and while Arsenal seem to be everyone's favourites to continue their downward slide, they tend to operate best when expectations are low and they still look solid and settled enough to have a good season. Despite losing Ronaldo, United appear in no danger of dropping out of the top two, let alone the top four. Chelsea and Liverpool, on the other hand, are expected to do well but might blow up. Liverpool will always be title contenders while they have Steven Gerrard and Fernando Torres in tandem, though that did not happen for large parts of last season and they still seem short of alternatives should the star duo be split up again.
The Chelsea that finished so strongly under Hiddink last season would have every chance of pipping a weakened United to the title, yet once again they have a new manager and it is hard to believe an Italian will adapt to English football and footballers as seamlessly as Mourinho did. Carlo Ancelotti may not come to grief as spectacularly as Luiz Felipe Scolari, though just because he has a terrific Champions League record with Milan, it does not mean he will hit the ground running in England. In terms of Premier League experience he is way behind Hughes, let alone Rafa Benítez, Arsène Wenger and Ferguson, and it is possible that the table at the end of the season will reflect that.
Relegation could be the easier end of the table to predict this season. There's a hostage to fortune if ever there was one but Portsmouth look as good as down already and Hull appear extremely unlikely to amass the 27 points before Christmas that kept them afloat last time. At least one of the three promoted clubs will go straight back down, and at the moment it appears to be Burnley who are most short on experience and investment. Romance is still possible – Burnley could turn out to be the new Hull, or Wigan before them – but as with United for the title, that's not the way to bet. When a team has won something three times running, you need a good reason for backing someone else. This season United may not be quite as good as they have been. But which of the chasing pack is going to be better?