Forex Live Market Analysis 2010

Most Reliable Sport Betting Prediction
Make Huge Affiliate Commission with RSS Content
0

Comments
Published by KL Ocs Kid on Tuesday, December 1, 2009 at 1:41 PM.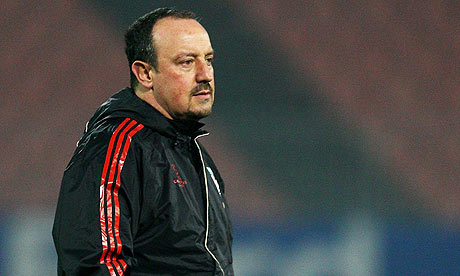 It comes to something when Andy Gray is the voice of sweet reason. But that was his role in Sky's post-match analysis/blood lust after Liverpool's pyrrhic victory in Budapest. As the curtain fell on the Reds' Champions League season, presenter Richard Keys clearly sensed vultures shuffling into their dinner jackets, giving their shoes a last-minute shine, ready to feast on the twitching corpse of Rafa Benítez, and was not about to be diverted from this scenario.
Geoff Shreeves, Sky's man below stairs with the hand-held microphone, was dispatched to witness the ravaging but sadly for Shreeves no one seemed inclined to tuck in, least of all Liverpool's suave managing director Christian Purslow.
Purslow strikes one as the sort of chap for whom the word "urbane" was invented, someone who would know exactly how to send back a bottle of Chablis Premier Cru if it were not up to snuff. I imagine if several close family members were to be wiped out by a meteor falling to earth, you might catch him with his tie slightly askew but elimination from the Champions League appeared to leave him neither shaken nor much stirred.
"What are the financial ramifications?" Shreeves asked him. "Limited actually, Geoff," was the unruffled response. "If we play two or three games in the Europa League, it should be financially neutral," which seemed to contradict the conventional wisdom but did not stop Shreeves from cutting to the chase: "In terms of the manager's position, though, would it have been a minimum requirement that you reach the knockout stages?" "We don't run our business in that respect," said Purslow patiently. "We don't make managerial and strategic decisions around results in the short run. You can never predict last-minute goals. Two goals have cost us dear in the Champions League and that's no basis on which to make managerial decisions."
"So going out of the Champions League at this stage, would that not induce the owners to review the manager's position at the moment?" countered Sky's rottweiler, with his teeth firmly clamped on the manager's position. "Absolutely not," said Purslow, leaving Shreeves with no option but – with apologies to Quentin Tarrantino – to get hypothetical on his ass: "What about this season, though, if Rafa Benítez was unable to finish in the top four and qualify for the Champions League next season?"
"Rafa has just signed a new five-year contract, we're about four months into it. He has signed up and we are very happy he has done so."
Keys somehow found equivocation in this and the return to the studio found him with furrowed brow. "Does that leave us with some doubt whether he will be there in six months' time or not?" he asked his pundits. "What's he saying?" "I think he is saying he will be there in six months' time," deconstructed Gray. "That's the impression I got from the interview."
Purslow's interview made for an interesting contrast with the press conference from Portsmouth announcing Avram Grant's assumption of managerial duties, broadcast live on Sky Sports News. The chief executive Peter Storrie, acknowledging Paul Hart's achievements in difficult circumstances, said: "Unfortunately, this is a results industry," which is something he might want to discuss with his counterpart on Merseyside.
It was a relief to turn to the less opaque business of chess boxing. As hybrid sports go, it is a peach. Could they have picked two less compatible disciplines to combine? For a start, how are you expected to pick up the chess pieces wearing boxing gloves? And what if you are concentrating on the chess game and someone wallops you in the middle of your Benko's Opening?
Fortunately, these and other questions were answered in a typically thorough Transworld Sport feature. The sport is the invention of a Serbian cartoonist Enki Bilal, who used it as a plot device in his graphic novel, The Cold Equator. A Dutch fan of the book, Iepe Rubingh, started organising real matches and now there are 150 professional competitors.
A match comprises alternating rounds of boxing and 12-minute chess sessions, with a short pause between rounds for the guys to take off their gloves, spit in a bucket and possibly receive confusing advice like, "He's leaving his bishop exposed, keep jabbing away." As far as I know it is the only sport you can win by knockout or checkmate.
In the tournament from Berlin shown on the programme, Nikolai Sazhin, a 19-year-old Siberian neo-physicist beat German Frank Stoldt, an experienced riot cop, described as the "godfather of chess boxing".
"It is extremely challenging," says Sazhin. "The chess part is even harder than real chess. You come out of the ring, your heart's racing, you are still breathing heavily and suddenly you have to calm yourself down," which I guess is how Rafa feels when he walks off after a match and finds Shreeves in the tunnel.