Forex Live Market Analysis 2010

Most Reliable Sport Betting Prediction
Make Huge Affiliate Commission with RSS Content
0

Comments
Published by KL Ocs Kid on Friday, June 4, 2010 at 7:58 AM.

Reds keeper never believed boss would leave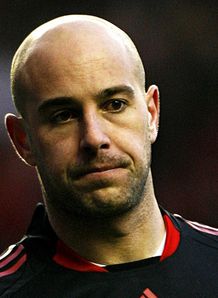 Jose Reina has been left stunned after learning of Rafa Benitez's departure from Liverpool.
The Reds goalkeeper is currently away on international duty with Spain preparing for this summer's World Cup.
Rumours regarding the future of his club boss had been circulating for some time, but many expected Benitez
to ride out the storm at Anfield.
His sudden exit has come as a surprise to many of those who worked under him, including Reina.
Benitez took him to Merseyside in 2005 and the 25-year-old has blossomed into one of the world's top shot-stoppers during his time in England.
Reina admits to feeling saddened by the news that his club boss has moved on, but is professional enough to realise that change happens in football.
Crisis
He knows it is now imperative that Liverpool
sort out their managerial situation as soon as possible, with the club needing to establish stability if they are to bounce back from the crushing disappointments of a shocking 2009/10 campaign.
"It's a sad moment for Liverpool, for Rafa Benitez and for the players who have been with him," said Reina.
"He was a very important person for the club for six years. Liverpool grew with him and Rafa also grew thanks to Liverpool.
"I hope that this crisis passes. That a person so important for the club as Rafa Benitez has left is news that you never would have expected and that you never would have believed.
"The only thing left for me is to thank him for his confidence during all this time. I wish him the best of luck.
Labels: pepe reina, rafael benitez