Forex Live Market Analysis 2010

Most Reliable Sport Betting Prediction
Make Huge Affiliate Commission with RSS Content
0

Comments
Published by KL Ocs Kid on Wednesday, September 19, 2007 at 10:17 AM.

Rafa planned to sub Pennant
Liverpool boss wants winger to learn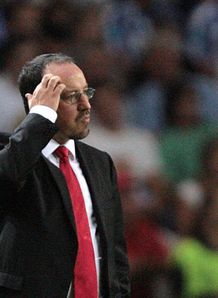 Rafael Benitez has revealed he was planning to substitute Jermaine Pennant moments before his red card against Porto.
The Liverpool winger saw red 13 minutes into the second half of the 1-1 UEFA Champions League Group A draw for a second bookable offence when he needlessly challenged full-back Fucile with the ball heading out of play.
Lucho Gonzalez had given Porto an early lead from the penalty spot before Dirk Kuyt levelled with a close-range header as an out-of-sorts Reds side held on for a point.
Pennant was cautioned in the first half for a challenge on Ricardo Quaresma and left referee Lubos Michel with little option but to produce a red after the interval.
Rash challenges
Benitez said: "I have no complaints about the decision. It was correct.
"Hopefully Jermaine will learn from this experience. Maybe it will produce something positive for the future, the tackle in that position was just not needed.
"It is difficult to understand why he did it, we had talked to him about staying on his feet and not making rash challenges.
"We were even talking on the bench about taking him off, but we just did not get the time to do it."
Very bad
And the Anfield boss was at a loss to explain his side's dismal display in the opening 45 minutes.
Benitez said: "We were really very bad in that first half, there are no excuses.
"We started very, very badly and it is hard to explain why because our build-up and preparation had been good.
"It was easier to do the right things in the second period, but the damage had been done. We gave the ball away far too easily, we conceded clear chances and gave away a penalty that was also a correct decision.
"But the second half was much better. We needed to show real character and that is what we achieved.
"We were more organised, there was an excellent work rate and there were positives to be drawn from the second-half performance.
"We were playing against a good side and we have no complaints about the result."
Labels: porto vs liverpool