Forex Live Market Analysis 2010

Most Reliable Sport Betting Prediction
Make Huge Affiliate Commission with RSS Content
0

Comments
Published by KL Ocs Kid on Monday, September 24, 2007 at 9:26 AM.

Xabi sad to see Pako go
Reds midfielder admits coach blow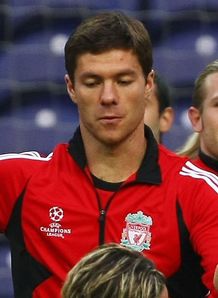 Liverpool star Xabi Alonso has admitted he is disappointed to see Pako Ayesteran leave the club.
Ayesteran left the club earlier this month after a reported bust-up with Reds boss Rafa Benitez.
Alonso, who is currently out of action with a foot injury, concedes it is big blow to everybody at the club to lose the former assistant manager.
Difficult
"I spoke to Pako when we knew he was not going to continue because we were very close.
"It was difficult for all the players. We have been working so close to him for a long time.
"It is a change and it has not been easy. We will have to see how it goes.
"It will take a little bit of time to get used to the new situation because we were really close to him at all the training sessions.
"Time will tell how it goes for us. We can't look back, we have to carry on our early form."
Labels: xabi alonso